CMS DEVELOPMENT
Get the best-in-class CMS Web Development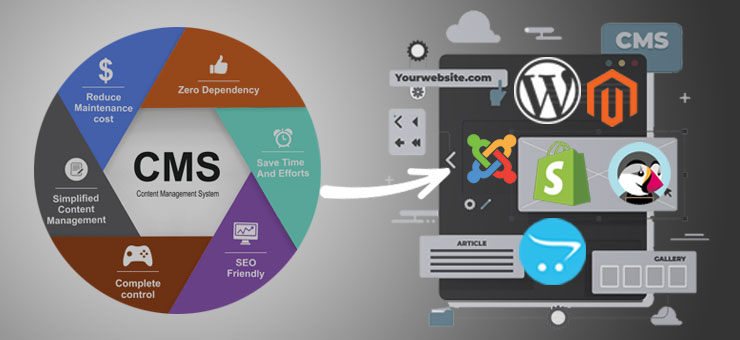 Enterprises or Individual business are uses CMS services to manage and modify their website content to give a better UI/UX. At Chase Intertech Inc., we build everything from a basic CMS to an advanced enterprise solution. We are well versed in WordPress, Joomla, and more. No matter how complex your requirements are, our expert developers can do it all.
Being a custom CMS development company, we have built easy-to-use CMS solutions for businesses across various domains and help organizations with their unique content management requirements, from custom modules, tools integration, campaigns, themes to workflow processes.
Our highly skilled CMS developers closely work with our clients to ensure timely delivery and flexible solutions. Our solutions are tailor-made to suit your specific business needs, from technical scalability, performance, to business.
Our CMS development services
WordPress Development
As a WordPress development company, we provide WordPress customization, plugins development, and upgrades to support. WordPress is an open-source no fuss CMS developer that lets you create versatile and power-packed, unique CMS applications.
CMS Migration
Our migration specialists have migrated solutions from every CMS platform thinkable, whether WordPress, Drupal, Joomla, or HubSpot. If you want to upgrade your existing CMS to a better CMS platform, we take care of the migration with minimum to zero downtime.
Joomla Development
We have par excellence experience in building professional, innovative, scalable, and customized Joomla-based solutions. We work through the entire CMS development cycle from designing to deployment with Joomla development.
CMS Consulting Services
With the decade of experience, we offer world-class CMS consulting services to various business domains. We offer free CMS consulting services, so our clients understand the CMS website's need and usage for thair business.
CMS Website Design
Prevent unresponsiveness, improve functionality, and manage your website content with our custom designs integrated into your CMS platform. With a custom-built dashboard, manage your business efficiently and improve performance with our creative design services.
CMS Website Development
If you're looking for top-notch CMS website development services, look no further than Chase Intertech Inc. and get your custom website built from us. Get your CMS application today that is powerful, scalable, and empowers your enterprise workflow.
Why Choose Chase Intertech Inc. for CMS development services?
Being the best CMS development company, we offer a broad range of CMS web development services extending from WordPress development, Joomla development, CMS migration, CMS consulting services, CMS website design, CMS website development, custom CMS integration, CMS support, and maintenance, and more. Here are three reasons why you should choose Chase Intertech Inc. as your CMS web development partner.
Cost effective

Diverse expertise

Timely delivery
We offer Custom Web Solutions
Have your business presence online? Let's Talk!
Get In Touch