CUSTOM WEB DEVELOPMENT
If You Dream It, We Can Build It.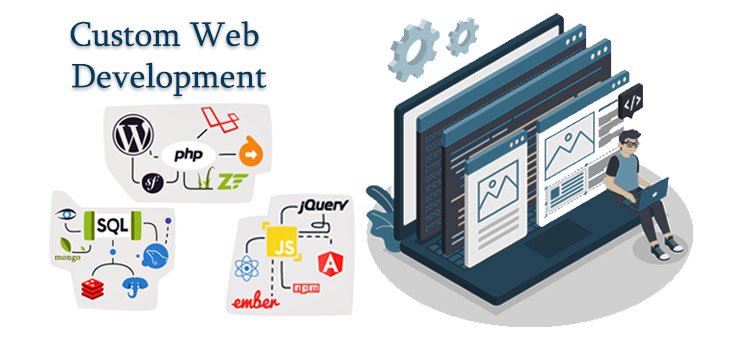 Chase Intertech Inc. provides a wide array of website development services for SMEs as well as large enterprises. We strive to deliver world-class solutions and a better UX (User Experience) to our clients.
We focusing on process-driven development, we hold expertise in ecommerce website development, wordpress development and also custom website development to build and enhance the quality of your website that is up to the mark with the market standards, it will help you in catering your customer's requirements successfully.
With years of experience in providing customized web development services, we have successfully managed to deliver tons of projects in multiple industries.
The Key Aspects Custom Web Development
Aesthetic Design
We will make sure that the design of your website is aesthetically pleasing to the visitors. They make use of colours that complement each other. They will also incorporate some neutral colours to highlight the main picture, banner, or logo to the visitor. This further adds to the appeal of your website. Flash animation and transitions will be added as per requirement to give a boost to the appeal factor. We also make sure that the fonts used are very readable.
Simplicity
When it comes to custom web development, simplicity is the key. To achieve this, our expert and experienced web developer organize the information available on each and every page on your website in a proper manner. Similar information available on each page will be grouped together so that navigation bar links required are restricted to the barest minimum.
Compelling Content
Professionally written, relevant, and useful content is what customers are looking for. They will want to know more about the company that provides this kind of content to them. Our content team has an uncanny ability to create simple and straightforward content that your target audience will find to be very engaging.
WHAT IS CUSTOM WEB DEVELOPMENT?
There are meny things involves not only just colour schemes, fonts, and images on your website. The process start from understanding your business and goes on to implementing a sound strategy for design execution to ensure a great user experience. Programming and marketing campaigns are also part of any custom web development process. This is because each and every aspect of your website has to be built, keeping in mind the specific needs and organizational goals of your business.
Releted Services
Have your business presence online? Let's Talk!
Get In Touch